My Story
I was born with a passionate love for humanity. The range of human uniqueness and cultural diversity fascinate me and called me naturally toward travel. I answered that call and have travelled and lived in many different countries, including India, South America, Taiwan, China, Ireland, France and Hawaii. I now live happily in Florida with the men of my life, my husband of 20 years and our two amazing sons.
Along my journey, I have been blessed to encounter many exceptional healers and teachers who enriched my inner and outer life as well as my competencies as a healing facilitator. (As my own personal challenges had come to a peak, when our family endured a severe crisis with our son with autism. It was my intense desire to find a road to our healing which catalyzed a deep process of personal transformation. I intensely worked on myself, only, for the first three years of receiving this gift (of sensing subtle energies and of becoming an intuitive empath) so that I could become a clear instrument in assisting the healing process of my clients. My practice spontaneously evolved from my own personal work as after three years time people began coming to me asking for facilitative support.)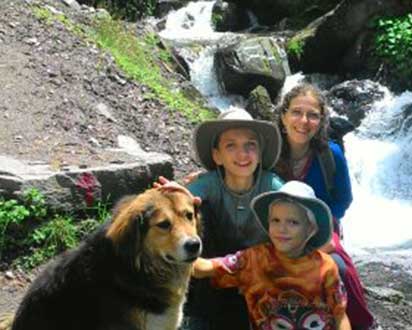 I am dedicated to sharing my years of experience along with the gifts and wisdom I received from all who have touched my life. I firmly believe that the challenges we go through in our life, will make us stronger and will make our spirit shine brighter if we choose to heal and let go instead of holding on.
I studied, trained and have years of experience in the field of autism as a result of my son's being diagnosed with autism along with multiple chronic illnesses including childhood cancer and a severe immune deficiency. I reached out to and learned from many experts in the field of nutrition, healing, alongside various cutting edge autism therapies in order to educate myself and get the training needed in order to be an integral part of my son's recovery.
I trained under speech and occupational therapists, as well as psychologists and autism experts. I also co-founded and operated Autism Oasis for Kids with my life partner, my husband, a school for children with Autism, after running our own home-based "Sonrise program" for 3 years for our son affected with autism. At Autism Oasis for Kids, I worked one-on-one with each student, counseled parents, trained the staff, and was the principal of the school.
 Throughout my life, my ground of being has been my spiritual practice. At the age of 18 years old, I choose to embark on a spiritual journey where I lived, studied Vedic knowledge and practiced Bhakti yoga in an ashram as a celibate monk for 7 years. This is when I received my spiritual name Vaishnavi Devi dasi, which means "Servant of the lovers of God". Since then, I have continued my simple devotion at home in family life. This Path is the Path of the Householder, seeing and celebrating the beauty and divinity in every aspect of ordinary human life, seeing the wisdom of Bhagavad Gita become a reality in my everyday Life. This strong spiritual base is at the heart of my healing practice. I have received the empowerment to guide others to heal themselves from the courage to honestly look within and be willing to feel the pain of various abuse endured as a child, including sexual abuse, and then choose to no longer identify myself with nor allow my traumas to shape my personality and life.
The strength and courage to do so came from intense prayers, deep meditations and my connection with the Lord within.Our spiritual practices both cultivates and stabilizes the awareness of our connection with Inner Divinity. This cultivation is my way of life, my way of being, and the compass which guides every healing session. Naturally, each healing session is as unique and powerful as each reflects the unique power and beauty of every individual who comes and enters with me into the healing process.
 I pray to continue making a difference in this world, one person at a time, and being instrumental in creating transformational healing success stories, across nations and around the globe.
With love,
Vaishnavi Devi dasi