10% OFF – SPECIAL OFFER
$864 (A $960 VALUE)
OR 2 MONTHLY PAYMENTS OF $432
8-WEEK PROGRAM
WEEKLY ENERGY HEALING SESSIONS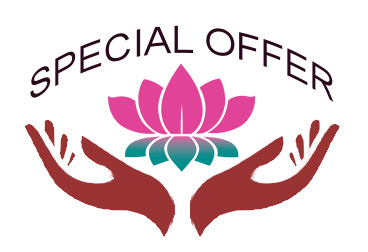 Starting at $432 / month for 2 months
A powerful life changing energy healing transformation package – 8 weekly sessions (1 hour per session)
Includes but not limited to:
Initial assessment 

Identification and release of your emotional  triggers

Removing past traumas from your energetic and physical bodies

Healing and reintegration of your wounded inner children

Cultivating power of forgiveness and acceptance of what is

Identification of self-sabotaging thoughts and their root causes

Shifting paradigm

Come into your inner-power

Manifest your true self in full integrity 
Energy Healing - Who Is Transformational Healing For ?
This package is a transformational healing journey for those who want to heal at a deep level and transform their life from the inside out.This package is for those who have been victimized in the past.
These gentle, compassionate and supportive energy healing sessions will enable you to find a way to break free of the after-effects of these challenging experiences and aid those suffering from low self-esteem, anxiety, depression, and self-limiting beliefs or any physical illness caused by past trauma. Remove these stressful triggers thoroughly and start living to the fullest.
Traumatic experiences leave devastating and painful marks on the energetic corpus which can be felt psychologically, physically, or both. Even after many years, these events persist as distressing "energetic memories."
How Does Transformational Energy Healing Work ?
We can't change history; but we can change our energetic imprint of these past memories by taking your powers back from these persons or circumstances, internally recreating the past events to a place of inner-power, healing the inner-child and changing the story on an energetic level. Meaning, whatever one was not able to do in the past to prevent these traumatic events, can be done now, internally in an energetic way, while the traumatic energies move out through me, so that one can be permanently free from the "energetic ghosts" of past traumatic memories and restore their state of well-being.
We may not have control over others and their choices, nor over our external circumstances, but we do have control of our thoughts, choices and how we perceive and react to external stimuli.
Energy Healing In Gainesville Florida
Take back your inner-powers, so that your happiness and well-being will no longer be in the hands of others. I provide different types of Energy Healing in Gainesville, Florida where I have my practice. I also offer Biomat Healing sessions plus other Energy Healing Services. You can find more about me here.
Distance Energy Healing
I also provide a distance energy healing service, as the way I work does not necessarily need the client to be physically present. You can find out more about distance energy healing here. I serve my clients for Energy Healing sessions and counselling in Gainesville Florida from my practice but I have also witnessed tremendous healing and transformation via long distance communication.
Additional information
| | |
| --- | --- |
| Payment Options | Pay monthly, Pay Full Amount |